Self-expression: Smart Design Studio office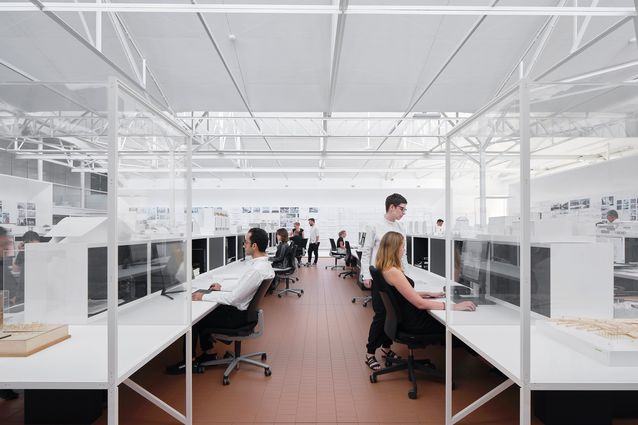 take a long time chain at each end and hold it in front of you. Gravity will pull it – naturally – into a catenary curve. Invert this curve and you have a catenary arch. Arches with this most effective freestanding geometry have been a staple of architecture throughout the ages, used in vernacular, medieval, Gothic and Renaissance architecture, and most notably and globally in early modern times by Antoni Gaudi , especially in his famous Sagrada Familia in Barcelona. . Although not common in Western domestic architecture, catenary arches were used by architect William Smart to stunning effect in his house above the Smart Design Office at Waterloo in Sydney.
Smart once lived above his desk. Previously it was in a former boarding house converted into a four story home and office building in a corner of Surry Hills. This new project lasted three years. Located at the end of a side street from a main road, the foundation was a solidly built early 20th century brickyard with a sawtooth roof, like many in this industrial but increasingly mixed-use area.
Home to a team of 40, the studio is all white with cheap terracotta-colored ceramic tiles on the floor throughout. It seems architects' studios have been searching for perhaps a century or more, despite moving drawing boards with screens. The sawtooth roof windows face south and flood the interior with natural light. Windows and blinds are automated to open and close based on weather and indoor temperature. There is no air conditioning. The floor is cooled or heated with underfloor water pipes, and on a humid Sydney day the interior is pleasant and benign. Sustainable architecture is a priority in Smart's practice and this building has, among other features, 260 solar panels on the roof and water recycling equipment installed. It is fully energy self-sufficient.
Architects and designers are seated along five rows of desks in a central space. Surrounding them on four sides are deep dividing walls. The inner sides are lined with drawings, sketches and works in progress, constantly pinned for review, contemplation and regular group discussion. Architectural models are placed at each end of the rows, with the most important diagrams in the company's history in large Plexiglas boxes. Others – more basic – are scattered on top of the shelves between the desks.
On the other side of these deep storage partitions, counter-clockwise from the street side, is the entrance hall with sanitary facilities and changing rooms; a long and comprehensive materials library; a kitchen and a canteen; and a model space. Above the lobby on a mezzanine level are three smaller meeting rooms and a conference room, each equipped with numerous data inputs and large flat screens. The glazing is at ground level, overlooking a street garden that Smart cultivates in a neighborhood gesture (he did the same in his former home/office), or at ceiling level, looking up at the trees. The industrial cityscape is largely out of sight. Next to the kitchen and canteen is a back door that opens into an alleyway where the original roofline of the building is largely unchanged.
The main entrance facade, on the opposite side of the block to the driveway, retains the materiality of the area – with long, narrow brickwork and steel-framed windows – but has been completely rebuilt with the chipped curves and forms cantilevers that have some of the sculptural character of the facade of Smart's now famous Indigo Slam project. It's a clue to what awaits us on the roof. If the ground floor is the most prosaic part of the program of the building, the floor is all in poetry.
Upstairs is the home of Smart, his partner John, and Dougal, their 10-year-old German Shorthaired Pointer (who follows Smart around the office and was a regular visitor when Indigo Slam was built). Access to this level is via a spiral staircase of 33 steps (integrated drill) with its own entrance from the street via a curved glass wall at an angle; there is also a modest entrance to the office. The spiral staircases take you from a curve in plan to a curve in section – to below a long sequence of catenary vaults that run the full length of the roof. It's breathtaking.
Two large vaults span the width of the upper level. Beneath these are the main living areas – a sitting and dining area under one and, at the far end, the master bedroom and bathroom under the other. Two smaller-scale vaults create a more intimate entrance and study space and kitchen area. These are staggered, on one side of the plan and on the other, to allow staggered exterior spaces. It is only in the kitchen that the curve of the roof flattens out for a window. The planes between the vaults are glazed, with lower rolling doors opening onto the terraces. Oblique views from the neighborhood to the sky open up the space, and the play of light and shadow along the light-colored brickwork is stunning.
Behind the entrance is a guest bedroom and a library (with bathroom opening onto a terrace) which can be partially hidden by a sliding panel; but the space is effectively entirely open-plan, relying on the building's length and spatial manipulation for discrete areas of privacy.
Immediately apparent is the slenderness of the roof shapes. The underside of the curves is a structure of long, thin, self-supporting bricks set on formwork, just as brick arches have been constructed for thousands of years. There is no mortar. The exterior of the bricks is sprayed with a coat of concrete to bind it and help with structural strength. A layer of insulation, plywood and then galvanized roofing is applied on top. Interior and exterior are part of the same structure. There is a feeling of living under the most minimal protection – like a layer of skin.
Smart worked with the UTS Tech Lab to explore and develop the making of brick arches and a life-size model was built to test the process. This attitude of collaborating and developing prototypes with learning centers has become an important part of the Smart Design Studio practice.
It is fair to say, I think, that William Smart's architecture has become more expressive and adventurous in recent years. His last house, above the Surry Hills office, was architecturally more conventional: well-planned, well-detailed, yet orthogonal and simple.
In a way, Smart was unleashed by Indigo Slam. This project suddenly seemed different from what had happened before. In the philanthropist Judith Neilson, he had a client who allowed him to express himself fully. The project caught the world's attention, and since then Smart has been booming. Hints of the sculptors Smart admires – Eduardo Chillida, Paul Selwood and Richard Serra – can be seen in this and other projects, such as his proposal for a gateway building at South Dowling 479 and Crown 515 (both in Surry Hills ), Hall 10 at Bondi Beach and the Green Square Rail Operations Centre.
Smart says her more expressive self was still there. This was evident when he was a student, but suppressed by years of working in Sir Norman Foster's office where, despite the excellent training, there was a particular way of doing things and little was allowed outside the aesthetic rules of the company. It took time for Smart to come out of that weight. Undoubtedly, what we are seeing now is an architect taking flight – a confluence of the right clients, the right time, and a growing assurance of their own particular architectural direction.