Ida's Ideas Fashion Design Institute gets its first batch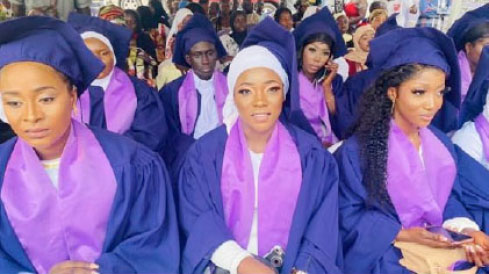 The graduation comes after two years of its establishment as an institution offering professional training ranging from certificate to diploma in fashion design.
The event attracted senior government dignitaries including Claudiana Cole, Minister of Basic and Secondary Education, Hon. Amul Nyassi, Member of the National Assembly, representative of the Mayor of Banjul, Rohey Malick Lowe and fashion designers among others.
The promotion, made up of 13 students, followed two years of rigorous diploma training in Fashion Design to become experts in the field ready to enter the job market.
Addressing the gathering, Ida Saine Conteh, the Institute's Managing Director and fashion designer, expressed her joy at being associated with the event, saying all she wanted was to make sure that 'she would do something that everyone in the country would enjoy.
"I thank God that today everyone appreciates it. Now, anyone who does not know Idea's ideas, then the person must have heard of it. This is just the beginning. I am very pleased to to be able to establish such an institution to elevate fashion design in The Gambia We were only doing tailoring but where we wanted fashion design to reach is only by establishing such an institution where young people will learn design from fashion, construction, boss cutting and entrepreneurship that could achieve this," she said.
Chan Mendy, the Director of the Institute, said the institute is the premier fashion design school in The Gambia, and their vision is to create a leading academy that would transform the face of fashion education. primarily to conduct focused creative learning.
"We focus on excellence, innovation, creativity, customer satisfaction, skills development and youth employment. The fashion skill has never been prioritized in The Gambia; it has been discouraged, undermined, ridiculed, left at the bottom for many years by our parents, friends and families, the government etc., and we have been made to believe that the skill is only for dropouts and people who don't have career path. "
She argued that this was not the case and that fashion design is a noble art, adding that it has now been proven that fashion design is one of the most important skills not only in The Gambia, but all over the world.
Also speaking, Claudiana Cole, Minister of Basic Education, underlined the importance of the day, describing the initiative as "indeed a revolutionary development".
"It is indeed a feat, and it is said that the journey of a thousand miles begins with one step; and Mrs. Ida had the courage to take this first step a few years ago, when she created this institution.
She congratulated the institution for this good start, further wishing it success in its efforts to empower young people.