Fashion Forward: Sanjyt Syngh's new design studio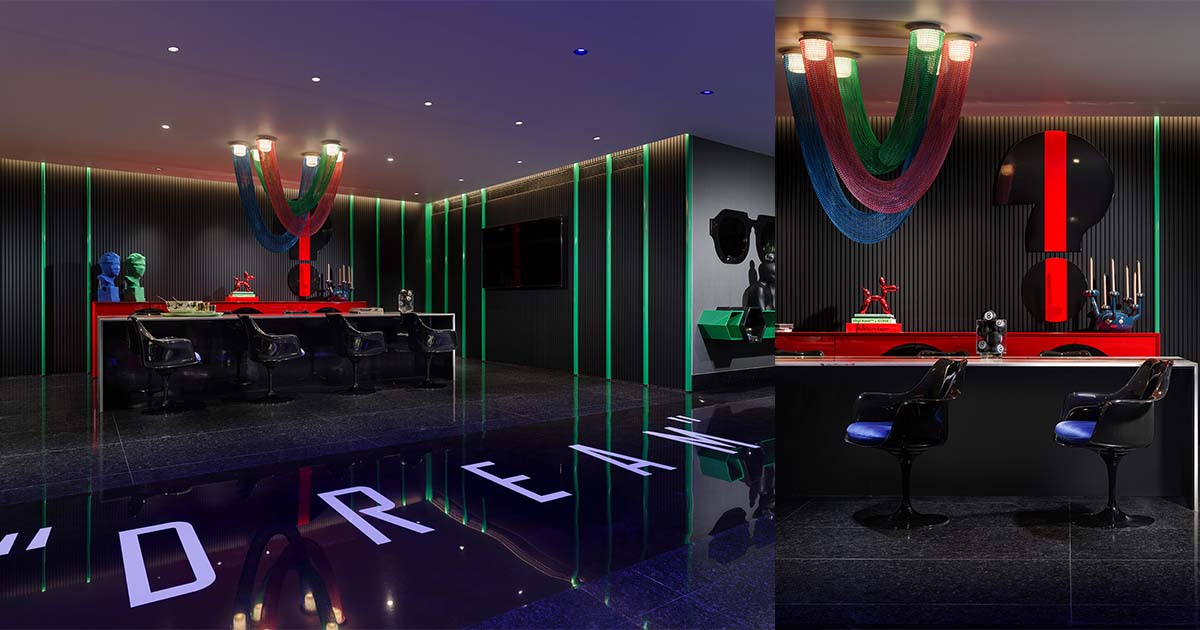 It is in the back streets of Sultanpur, the new hub of interior stores that Sanjyt Syngh has chosen to open his unparalleled studio. Designed as an avant-garde New York loft, this very personal project amplifies the essence of his Stygian design sensibility. This space defies the brief that dark colors shrink a space. The zonal experience amplifies the use of fashion colors in interiors.
A typographical marble inlay on the floor is in the foreground as you enter. Syngh chose the word "DREAM" to interpret the kind of spaces he likes to create. A 12-foot Dalmata stone dining table doubles as conference space when needed. The table is accompanied by Tulip Chairs from Knoll. Through the floor, you will see several interior configurations connected by a single element, its love for the color black. The entire floor is in black marble and allows one space to transcend into another. Each space is defined with distinct wall panels ranging from brutalist angles to organic curves to bright red. A variety of bespoke objects are displayed in the style of an art installation.
He did not want to qualify this office space. It's his personal design studio, so he wanted his design ethic and love for all things quirky to scream loudly. His name is Sanjyt Syngh and "This is not a hair salon"
About Sanjyt Syngh:
The Delhi-based designer and stylist did his undergraduate studies at the Fashion Institute of Technology in New York and worked with incredible designers and architects for a decade, before moving to London for his post-graduation. He then returned home and founded Sanjyt Syngh Design Consultancy. As the creative director of his company, he takes on many roles. While the creative entrepreneur is based on
New Delhi, he creates works that you can see all over the world.
The body of his work encompasses residences, offices, showrooms, exhibition displays, gymnasiums and restaurants. Having completed projects across India in Delhi, Mumbai, Hyderabad, Bangalore, Kolkata, he is currently leading projects in Dubai. His firm has had the honor of being named one of the best interior designers in the world three times by Andrew Martin Interior Design Review in 2016, 2018 and 2020. Two gymnasiums designed by them have won the best gymnasium in India, and the best gym in the world among some 3,000 registrations. They were awarded the Top 50 2019 Elle Decor India Design ID. They were also named Top 50 Next iGen Designers 2019.
Studio address:
K. No. 289 Ground Floor, MG Road,
New Delhi – 110030
Contact 099999 75099
Website – www.sanjytsyngh.com
Instagram – sanjytsyngh
Facebook – @sanjyt