Cape High Students Medal in Fashion Design Competition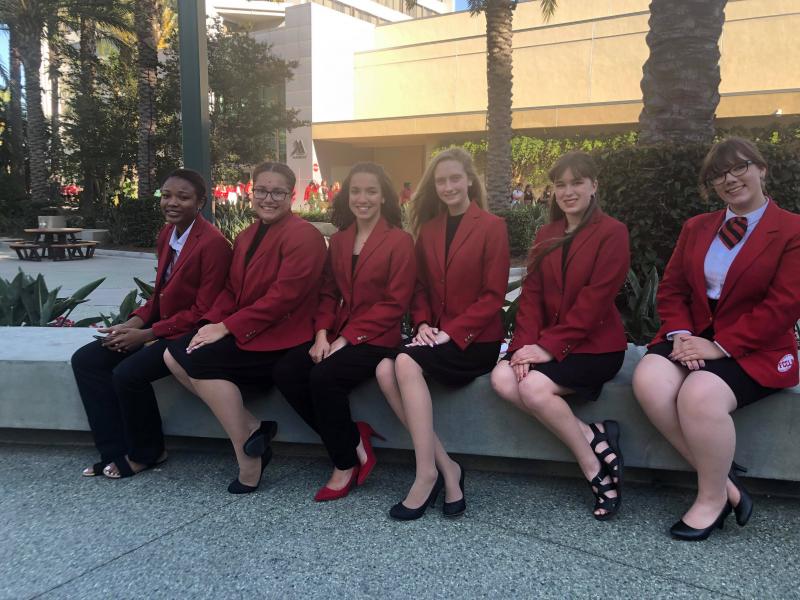 Cape High's textile students performed their best ever at a national competition in California, where six students won medals at the annual Family, Career and Community Leaders of America event.
Ashlyn Moore won gold in fashion construction for a floor-length pink dress that also won gold in the Delaware competition, said Alayna Aiken, professor of consumer science and the Cape High family. "She placed seventh in the country," said Aiken. "It was really cool because a lot of the participating students came from schools specializing in sewing."
Jasmine Mayo won gold in fashion design for a children's clothing line she designed to support the Sunrise Aiken sewing school launched in Kenya. Jasmine designed four outfits and wrote a business plan for her line, Kwa Watoto, which translates to "for kids" in Swahili.
"She blew the judges away," Aiken said. "She got a 95 out of 100. Her ideas really won them over."
Kimberly Aiken won the silver in fashion build for her vintage burgundy dress made from a design she found in a 1954 issue of Vogue. As Chapter President of Cape High, Kimmie also received training as a state officer at the FCCLA.
In interior design, Molly Godwin and Andreza Barros won bronze for their interior design of a tropical hotel room they called Mar Terra, which means "sea and land" in Portuguese, a nod to Andreza, a Brazilian who speaks Portuguese.
Mikiyah Ennals won bronze in recycling and redesign for a two-piece ladies' sweater that she constructed from an old pair of men's overalls.
Aiken said students enjoy trading state pins with students from other states. "Delaware is such a small state, our pins were in demand," Aiken said.
During their weeklong stay in California, the students suffered three earthquakes. They explored Palm Springs and the desert, where they were told the temperature of 107 degrees was much cooler than normal. The students also visited Laguna Beach and the venue for the Coachella music festival. "Six teens living under one roof for a week really got a taste of college life," Aiken said. "Many of them had never flown before. It was a great adventure for them, and even better that all the students were medalists.