Australian designer Calvin Luk leads BMW's automotive design studio in Shanghai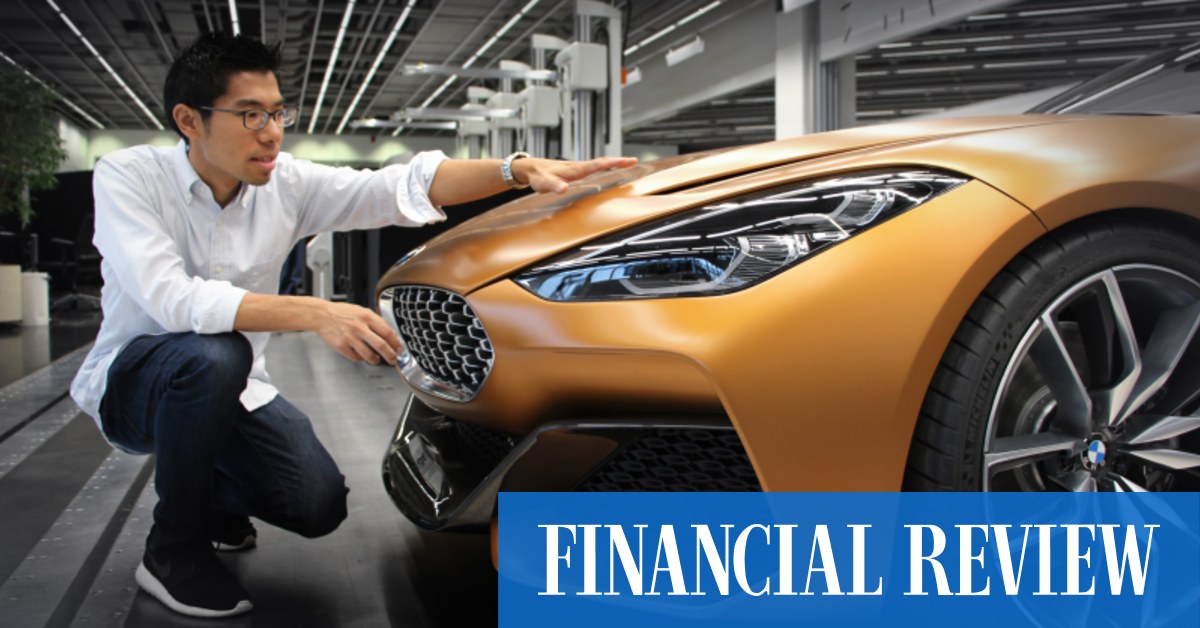 "The same will be true for the exterior: how does it respond to the customer through the mix of digital and physical elements?
For example, says Luk, the new interior materials are not only more durable than leather and wood, they're much more interesting. And BMW is working with film score composer Hans Zimmer on sounds for electric cars, recognizing the importance of the sound experience. Luk thinks that even without a roar or a zap, anything that moves "is naturally pretty exciting."
"If we take, for example, a roller coaster, I don't think there's a question of whether it runs on gas or does it run on electricity? You know, it's just about the thrill of those G-forces. And the experience of riding that ride.
Luk – he usually pronounces 'luck' but says it's halfway between that and 'Luke' – led the teams in Munich that produced BMW's X1, X3 and Z4 models. He recently moved to China, where he is currently working on a range of future BMWs, Minis and Rolls-Royces for the BMW Group. And he's still under 40.
"We have high bandwidth," he says of the new position. "When you talk about more advanced topics, like where you wonder about mobility in the future, or if you're trying to think about the next architecture, or what the metaverse means for our society, you might think seven or 10 years later.
At the other end of the scale, there are immediate production problems. "So you could be talking about a change of a millimeter on the shape or the geometry to allow the industrialization of the vehicle."
Luk was born at the Royal North Shore Hospital in Sydney to parents who had moved from Hong Kong to Australia several years earlier. His interest in cars grew when his parents bought a BMW 3 Series. 10-year-old Luk fell in love with design and drew it from every angle. From that moment he knew he wanted to be a car designer.
At the Sydney Motor Show six years later, he heard a German accent on the BMW stand, decided the man must be from headquarters and asked him to deliver a letter to the company's star designer, Chris Bangle.
"He said 'of course', so I ran home and came back with a letter that said something like 'Dear Chris. I really like your cars, and I would like to be a car designer at BMW. How can I do this? And here are some of my creations. "
The answer came not from Bangle but from fellow BMW designer David Carp. There was no job offer, just a suggestion that if Luk worked hard and took a graduate course in design, maybe they could talk to each other in a few years.
Luk started out at the University of Technology Sydney, but after a year his obvious talent landed him a scholarship to the ArtCenter College of Design in Pasadena, California.
The widely regarded ArtCenter the place to launch a design career with a major automaker; it's Bangle's alma mater, Adrian Van Hooydonk, now the BMW Group's chief design officer, and many others.
Luk started at BMW as an intern in 2006 and the man who replied to his letter, David Carp, became one of his mentors.
Life & Hobbies spoke to Luk in Sydney's eastern suburbs, on his first post-COVID trip to his parents' home to visit his parents. The BMWs he worked on passed frequently.
"It's incredibly moving when I see them driving," he admits. "It's a strange feeling, I think back to my journey, writing that letter to BMW, studying at ArtCenter and winning competitions [when] very young."
He also remembers all the arguments that went into the development of each car, as designers, engineers and bean counters fought for their interests. It's a process that can be very intense, says Luk, but stems from a common goal: to make the best car possible.
"When I see [my cars], I'm always curious. I try to look inside and see who is driving because buying and owning a car is a big investment. So if anyone cared enough to want to have this…I really appreciate it. I hope they appreciate it. I like to wonder what they think about it and what kind of memories they create with this car as part of their family.
He's still as excited about cars and their potential as he was when he was 16. "It's always changing… always developing. You never really know what happens next. Thus, you participate in the creation of the future rather than simply reacting to it.
"It's really, really fun. It really keeps you on your toes.